I just tried using CMAKE_WINDOWS_EXPORT_ALL_SYMBOLS. when I run cmake build, I get an error saying
C:\Program Files (x86)\Microsoft Visual Studio\2022\BuildTools\MSBuild\Microsoft\VC\v170\Microsoft.CppCommon.targets(152,5): error MSB3073: The command "setlocal [C:\User
s\davdf\code\mine\okiidoku\cpp\build\Debug\libs\okiidoku\okiidoku.vcxproj]
C:\Program Files (x86)\Microsoft Visual Studio\2022\BuildTools\MSBuild\Microsoft\VC\v170\Microsoft.CppCommon.targets(152,5): error MSB3073: cd C:\Users\davdf\code\mine\ok
C:\Program Files (x86)\Microsoft Visual Studio\2022\BuildTools\MSBuild\Microsoft\VC\v170\Microsoft.CppCommon.targets(152,5): error MSB3073: if %errorlevel% neq 0 goto :cm
End [C:\Users\davdf\code\mine\okiidoku\cpp\build\Debug\libs\okiidoku\okiidoku.vcxproj]
C:\Program Files (x86)\Microsoft Visual Studio\2022\BuildTools\MSBuild\Microsoft\VC\v170\Microsoft.CppCommon.targets(152,5): error MSB3073: C: [C:\Users\davdf\code\mine\o
kiidoku\cpp\build\Debug\libs\okiidoku\okiidoku.vcxproj]
C:\Program Files (x86)\Microsoft Visual Studio\2022\BuildTools\MSBuild\Microsoft\VC\v170\Microsoft.CppCommon.targets(152,5): error MSB3073: if %errorlevel% neq 0 goto :cm
End [C:\Users\davdf\code\mine\okiidoku\cpp\build\Debug\libs\okiidoku\okiidoku.vcxproj]
C:\Program Files (x86)\Microsoft Visual Studio\2022\BuildTools\MSBuild\Microsoft\VC\v170\Microsoft.CppCommon.targets(152,5): error MSB3073: "C:\Program Files\CMake\bin\cm
C:\Program Files (x86)\Microsoft Visual Studio\2022\BuildTools\MSBuild\Microsoft\VC\v170\Microsoft.CppCommon.targets(152,5): error MSB3073: if %errorlevel% neq 0 goto :cm
End [C:\Users\davdf\code\mine\okiidoku\cpp\build\Debug\libs\okiidoku\okiidoku.vcxproj]
C:\Program Files (x86)\Microsoft Visual Studio\2022\BuildTools\MSBuild\Microsoft\VC\v170\Microsoft.CppCommon.targets(152,5): error MSB3073: :cmEnd [C:\Users\davdf\code\mi
C:\Program Files (x86)\Microsoft Visual Studio\2022\BuildTools\MSBuild\Microsoft\VC\v170\Microsoft.CppCommon.targets(152,5): error MSB3073: endlocal & call :cmErrorLevel
%errorlevel% & goto :cmDone [C:\Users\davdf\code\mine\okiidoku\cpp\build\Debug\libs\okiidoku\okiidoku.vcxproj]
code\mine\okiidoku\cpp\build\Debug\libs\okiidoku\okiidoku.vcxproj]
C:\Program Files (x86)\Microsoft Visual Studio\2022\BuildTools\MSBuild\Microsoft\VC\v170\Microsoft.CppCommon.targets(152,5): error MSB3073: exit /b %1 [C:\Users\davdf\cod
e\mine\okiidoku\cpp\build\Debug\libs\okiidoku\okiidoku.vcxproj]
C:\Program Files (x86)\Microsoft Visual Studio\2022\BuildTools\MSBuild\Microsoft\VC\v170\Microsoft.CppCommon.targets(152,5): error MSB3073: :cmDone [C:\Users\davdf\code\m
ine\okiidoku\cpp\build\Debug\libs\okiidoku\okiidoku.vcxproj]
C:\Program Files (x86)\Microsoft Visual Studio\2022\BuildTools\MSBuild\Microsoft\VC\v170\Microsoft.CppCommon.targets(152,5): error MSB3073: if %errorlevel% neq 0 goto :VC
End [C:\Users\davdf\code\mine\okiidoku\cpp\build\Debug\libs\okiidoku\okiidoku.vcxproj]
C:\Program Files (x86)\Microsoft Visual Studio\2022\BuildTools\MSBuild\Microsoft\VC\v170\Microsoft.CppCommon.targets(152,5): error MSB3073: :VCEnd" exited with code -1073
741819. [C:\Users\davdf\code\mine\okiidoku\cpp\build\Debug\libs\okiidoku\okiidoku.vcxproj]

I noticed there's a command line that just says "C:".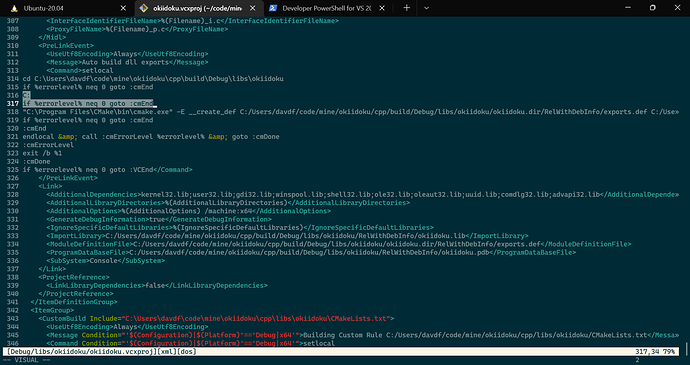 It seems weird. If I remove it, I stop getting the error. I did a bit of shallow searching through the cmake repo. Nothing seems wrong with AddSymbolExportCommand(...). I notice the call to this->GeneratorTarget->GetPreLinkCommands() right before the usage of AddSymbolExportCommand. I assume that's where the "C:" is being added. I searched for calls to AddPreLinkCommand and found all the AddCustomCommandToTarget calls and at that point I think I'm out of my depth.
I'm on Windows 10, I just upgraded to Visual Studio Build Tools 2022 17.1.6. I'm using cmake 3.23.1 installed from chocolatey. That's the same one being used by the vcproj command (C:\Program Files\CMake\bin\cmake.exe).
Note: after getting past this error, I start getting errors about 'unresolved external symbol "__declspec(dllimport)', (my cli target not being able to link to my shared library target) but I think that's just a problem with my setup that I need to figure out.