Hi all,
bit background what I'm trying to achieve. We want migrate from IAR workspace build system to CMake build system to make our builds more flexible. We have to stick with IAR compiler, at least for now. Target is to have identical binaries, in order to proof that IAR workspace can be safely replaced by CMake system.
What I achieved:
Nearly identical binaries. Only few Bytes difference when compared HEX -> most of compile and linker parameters are most probably fine
From functional point of view I do not see any differences, but still, binaries are not identical
What I want to achieve:
Here is detailed disassembly where differences are. I always compare CMake and IAR workspace results: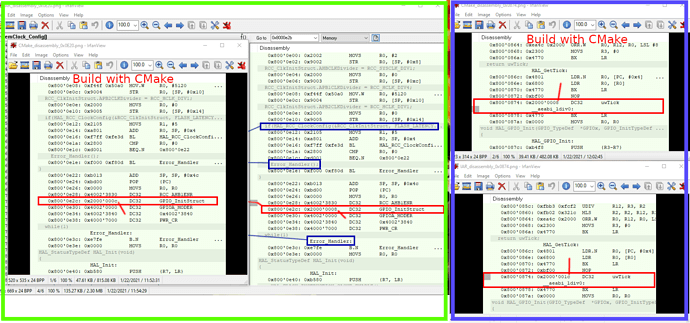 I can not upload example project or more pictures, since I'm newbie there. If needed, I think we can figure out how to share it.
Can anyone give me some kick what is that difference do and ideally how to deal with it? I think it is something related to linker, but not really sure.
Kind regards
Martin S.